A rundown on MTU's ratings and awards
MTU's ratings and Awards are based not only on its financial performance but also on non-financial indicators.
---
MTU Aero Engines was awarded Prime Status (C+) for its Corporate Responsibility performance.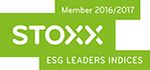 MTU has been listed in these equity indices, which offer a representation of the leading global companies in terms of environmental, social and governance criteria, since 2014.
CDP (formerly Carbon Disclosure Project)
MTU has for years been participating in this carbon accounting initiative and has submitted annual environmental statements. In 2015, MTU was among the winners of a Best Improver in Germany award.
Transparency International
MTU is listed in the Defence Companies Anti-Corruption Index 2015.
Dow Jones Sustainability Index
Alongside economic and environmental factors, this index also takes companies' stock performance in terms of social criteria into account. MTU participates in the corporate sustainability assessment on a regular basis.
MTU participates in the foundation's Corporate Responsibility Index (CRI) survey among German companies.
MTU regularly has its corporate responsibility performance assessed and rated by European sustainability agency Vigeo Eiris.
2014 German Investors' Award for Responsible Business Practices
The German Investors' Award for Responsible Business Practices is awarded annually by DuMont publishing house and Deutsche Asset & Wealth Management to companies that demonstrate particularly responsible and sustainable management of matters concerning the environment, employees, society and other stakeholders.
We welcome your opinion on Corporate Responsibility at MTU.