MTU Aero Engines AG
MTU Aero Engines' headquarters is Munich. This traditional aviation site is inextricably linked to the history of powered flight, its roots reaching back to the beginning of the last century. It is from here that the affiliates and most of MTU's research and development activities are controlled.

Engines are here assembled and components manufactured for shipment to the big engine OEMs. In Munich, moreover, spare parts are manufactured and innovative repair and maintenance techniques developed for use at the company's affiliates. And it is also at this location that MTU has set up a center of excellence for blisks for which it has built a new, highly advanced production shop.

Furthermore, MTU is the German industrial lead company for the engines flown by the country's military, with all military programs focused at the Munich location.
Contact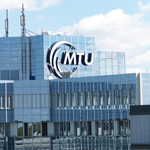 MTU Aero Engines AG
Dachauer Str. 665
80995 München
Germany
Phone: +49 89 1489-0
Fax: +49 89 1489-5500

MTU Aero Engines' Erding facility
MTU Aero Engines AG
Erding facility
Landshuter Straße 70
85435 Erding
Germany
Tel.: +49 89 1489-0
Fax: +49 89 1489-5500