The PW1100G-JM is a member of Pratt & Whitney's GTF engine family and powers the latest generation of narrowbody aircraft, the Airbus A320neo. The reduction gearbox between the fan and the low-pressure compressor, as well as the low-pressure turbine, enable lower fan pressure ratios, and, in turn, higher bypass ratios. These developments lead to very high overall efficiency and significantly reduce fuel consumption, carbon dioxide emissions and noise generation. Compared to its predecessors, the engine reduces fuel burn and CO2 emissions by 16 percent and cuts noise footprint levels by 75 percent.
MTU has an 18 percent stake in the PW1100G-JM and the company is responsible for the high-speed low-pressure turbine, the first four stages of the high-pressure compressor and brush seals. In Munich, MTU assembles one third of all PW1100G-JM engines.
MTU Maintenance is responsible for providing MRO services for the engines: The company's share in the aftermarket business is equal to its share in the program. Work is carried out at MTU Maintenance Hannover.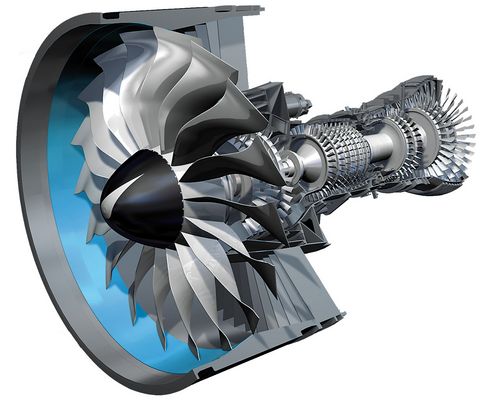 Development and production
Various stages of the high-pressure compressor
High-speed low-pressure turbine
Brush seals
Pratt & Whitney
Japanese Aero Engines Corporation (JAEC, Japan)
GKN Aerospace
Thrust (lb.): 24.4 – 35k
Fuel burn (vs. current engines): -16%
Noise (vs. stage 4): -20dB
Emissions – CO2 reduction per a/c (tonnes annually): -3.600
Emissions – NOX (margin to CAEP 6): -55%
Fan diameter: 81 in
Stage count: 1-G-3-8-2-3