MTU operates Airfoil Services Sdn. Bhd. (ASSB) in the vicinity of Kuala Lumpur in Malaysia in equal partnership with Lufthansa Technik. The joint venture's core competency is the repair of low-pressure turbine and high-pressure compressor airfoils.
Highly advanced repair processes and short turnaround times make Airfoil Services a center of excellence for the repair of engine blades.

In 2007, Airfoil Services built a new shop in Kota Damansara to substantially expand its repair capacities.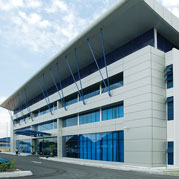 Airfoil Services Sdn. Bhd.
No 12 Jalan Teknologi Taman Sains Selangor 1
47810 Kota Damansara PJU5 Petaling Jaya Selangor Darul Ehsan
Malaysia
Phone: +60 3 6145-3600
Fax: +60 3 6141-6813
info@
airfoil.com.my
Airfoil Services Sdn. Bhd. Kuala Lumpur - english