The Pratt & Whitney GTFTM engine family powers next-generation commercial aircraft. The new engines offer double-digit improvements in fuel burn, pollutant and noise emissions, and operating costs. They feature a Fan Drive Gear System which uncouples the fan from the low-pressure compressor as well as the low-pressure turbine, which drives the fan. This allows the fan to rotate at a lower speed and the low-pressure compressor and turbine much faster. As a result, the fan pressure ratios are lower and the bypass ratios much higher and all components can achieve their respective optimum speeds, which greatly boosts overall efficiency. The engine burns markedly less fuel, is cleaner and less noisy. As compared with its predecessor engines, the geared turbofan lowers fuel consumption and carbon dioxide emissions by around 16 percent each, and the noise footprint of GTF-powered aircraft is reduced by 75 percent. Another advantage: The propulsion system weighs less as it has fewer compressor and turbine stages.
To date, four major aircraft manufacturers have selected the GTFTM Engine Family to power their latest aircraft. Airbus is offering the GTFTM Engine Family for the A320neo and the A220. Mitsubishi has chosen the propulsion system as the sole engine choice for its SpaceJet regional jet. Irkut will equip its MC-21 with the engine. Last, but not least, Embraer has opted for the GTFTM Engine Family as the exclusive powerplant for its second-generation E-Jets.
Depending on the application, MTU's stake in the GTFTM Engine Family varies between 15 and 18 percent. The company is responsible for the high-speed low-pressure turbine and the first four stages of the high-pressure compressor. Moreover, MTU manufactures brush seals and nickel blisks for components of the high-pressure compressor for which it does not have development responsibility. The company will also perform the final assembly of one third of the production PW1100G-JMs to be manufactured for the A320neo.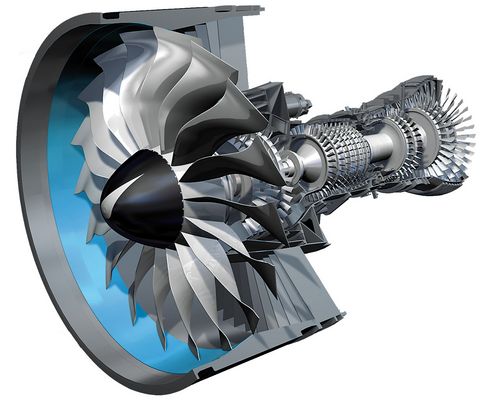 | | PW1200G | PW1500G | PW1100G-JM | PW1400G-JM | PW1700G | PW1900G |
| --- | --- | --- | --- | --- | --- | --- |
| Thrust (lbs) | 15 - 17 k | 19 - 25 k | 24,4 - 35 k | 28 - 31 k | 14 - 17 k | 19 - 23 k |
| Fuel Burn (vs. current engines) | -12-16 % | -12-16 % | -16 % | -16 % | -12 % | -16 % |
| Noise (vs. stage 4) | -15 dB | -20 dB | -20 dB | -20 dB | -15 dB | -20 dB |
| Emissions - CO2 reduction per a/c (tonnes annually) | -2.700 | -3.000 | -3.600 | -3.600 | -2.700 | -3.000 |
| Emissions - NOx (margin to CAEP 6) | -50 % | -55 % | -55 % | -55 % | -50 % | -55 % |
| Fan diameter | 56 in | 73 in | 81 in | 81 in | 56 in | 73 in |
| Stage count | 1-G-2-8-2-3 | 1-G-3-8-2-3 | 1-G-3-8-2-3 | 1-G-3-8-2-3 | 1-G-2-8-2-3 | 1-G-3-8-2-3 |
| Applications | SpaceJet | A220 | A320neo | MC-21 | E-Jets Gen2 | E-Jets Gen2 |
10 k to 40 k thrust range (initial product focus)
12 - 16 percent reduction in fuel burn over current engines for single-aisle aircraft
20 dB reduction in noise over ICAO Stage 4 requirements
55 percent reduction in NOx emissions over 2009 standard (CAEP6)
Engine operating cost reduced by more than 20 percent
Development and Production
Various stages of the high-pressure compressor
High-speed low-pressure turbine
Brush seals
PW1200G: 15%
PW1500G: 17%
PW1100G-JM: 18%
PW1400G-JM: 18%
Pratt & Whitney
Japanese Aero Engines Corporation (JAEC, Japan)
GKN Aerospace
Airbus A320neo
Airbus A220
Mitsubishi SpaceJet
Irkut MC-21
Embraer E-Jets Gen2