LM2500™ / LM2500+™ / LM2500+G4™
The LM2500™ is a GE industrial gas turbine which derives from the CF6-6 aircraft engine. It has been maintained and repaired by MTU since 1981. Unlike the LM6000™ gas turbine, the LM2500™ is designed with a single-rotor gas turbine and an aero-dynamically coupled power turbine. The LM2500™ consists of a sixteen-stage compressor, a fully annular combustor, a two-stage high-pressure turbine and a high-efficiency power turbine. The LM2500™ gas turbine is the most popular aero-derivative in the 20 to 25 MW class.
The LM2500+™ and the LM2500+G4™ are uprated versions of the basic LM2500™ and offer 30.5 MW and 36.3 MW of power.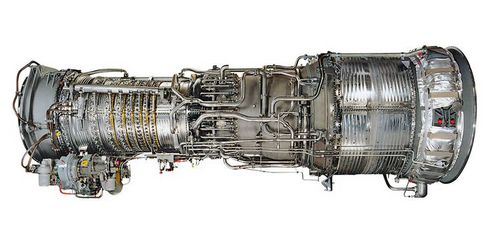 Generator at "hot" end
Single-shaft gas generator with free power turbine
Stage 1 and 2 high-pressure turbine disks
Repair and overhaul at MTU Maintenance Berlin-Brandenburg
Power generation
Mechanical drive systems / oil and gas extraction
Marine propulsion
Combined Heat and Power ("Cogen")
| | LM2500 | LM2500+ | LM2500+G4 |
| --- | --- | --- | --- |
| Power (kW) | 22,000 | 30,500 | 36,300 |
| Heat rate LHV (Btu/kWh) | 9,465 | 8,850 | 9,184 |
| Exhaust gas mass flow (lb/s) | 149 | 191 | 213 |
| Exhaust gas temperature (F) | 990 | 960 | 945 |
| Power turbine speed (rpm) | 3,600 | 3,600 | 3,600 |